Design and management of IT infrastructure
We ensure smooth operation of IT infrastructure so that you can focus on your business.
We design, implement and administer comprehensive IT and security infrastructure for our clients. We follow a qualitative credo that says a suitably designed and properly maintained infrastructure should escape the notice of the end user, because a network that works well should be a given. At VGD Technologies, infrastructure administration is closely tied to IT management services. While the infrastructure team handles the physical connection of the equipment, active IT management maximizes the utility value of the technologies used.
Are you looking for a partner in this area?
Contact us
Comprehensive IT infrastructure with VGD Technologies

Security is our top priority
We design and implement the security measures with maximum efficacy. We install facility access systems, appropriately locate video cameras to cover the greatest perimeter possible and add additional sensors.

Network infrastructure
We design suitable network services, including routers, active elements and DNS and DHCP services, for new buildings. We then enter the IT infrastructure directly into the construction plans. For existing buildings, we look for the easiest way to achieve the intended result. We distribute network cables and install sockets and network elements.

Implementation of IT infrastructure from A to Z
We aren't afraid to get our hands dirty. We handle comprehensive infrastructure implementation, including construction work.

Continuous monitoring and administration
We supervise network administration and address requests as they arise.
We provide these types of services for companies such as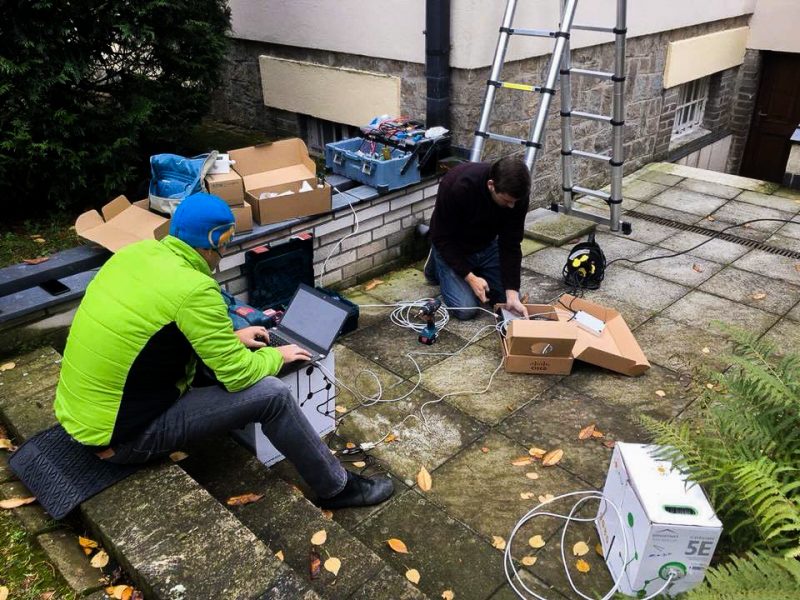 Comprehensive IT infrastructure implementation
We supply comprehensive IT infrastructure projects, including management. Independently, or in collaboration with the client's engineering firm, we develop construction plans that reflect the client's IT needs. We know how to respond flexibly to changing project parameters during the design and implementation phases. We typically handle remodelling of existing buildings by ourselves, and for new facilities we work with the general construction contractor. Along with subsequent setting up and testing of all infrastructure, we address practical questions such as finding the most suitable internet connection for the network and negotiating provider contracts.
Facility security
Security is an essential part of infrastructure. We consider both information security and physical security. In facility security, we design and install access systems, video cameras and additional sensors. At VGD, security is not just about installing a security system. We begin by designing the system's practical use. We also address how to work with acquired data, e.g. for the purposes of attendance systems or internal security auditing.
We work with state-of-the-art technologies
but we also know how to adapt to what you're already using
Network elements

We use the entire Cisco product portfolio, particularly routers, switches, access points and phones. We build servers on the Supermicro platform, which enables us to create tailor-made configurations without being limited to unified sets. Infrastructure includes cloud services such as MS Azure, to which we plan on transferring completely in future.
Security systems



The decisive criterion of all systems that we work with is a high level of reliability – which is why we install Paradox switchboards, to which we add additional Paradox sensors and access systems. We use Vivotek camera systems, which are of state-of-the-art quality and have exceptional product scalability and Nuuo which enables access from multiple platforms that can be used e.g. for client access.
Contact us
Whether you're looking for a partner to cooperate with, or whether you'd like to solve a particular problem, this is the right place to be!