We are changing the face of IT outsourcing
We focus on your needs before they become your problems
We build business relationships with our clients based on long-term partnerships and their trust in our responsibility.
We believe that an IT vendor's job is not limited to just providing specialised resources – the customer should also get added value. At VGD Technologies, we create this value by merging consulting and implementation services and by working independently and assuming responsibility for the entire IT agenda. Our work is based on a meticulous analysis of the client's current status and understanding the client's needs and goals, according to which we design the most suitable IT strategy.
We implement the selected strategy independently or in collaboration with the existing IT department, we provide long-term administrative services and evaluate the impact of the implemented measures. We strive to make your transition to IT outsourcing invisible in terms of service mode and availability and visible in terms of service depth and quality and our ability to implement services within the broader framework of your company.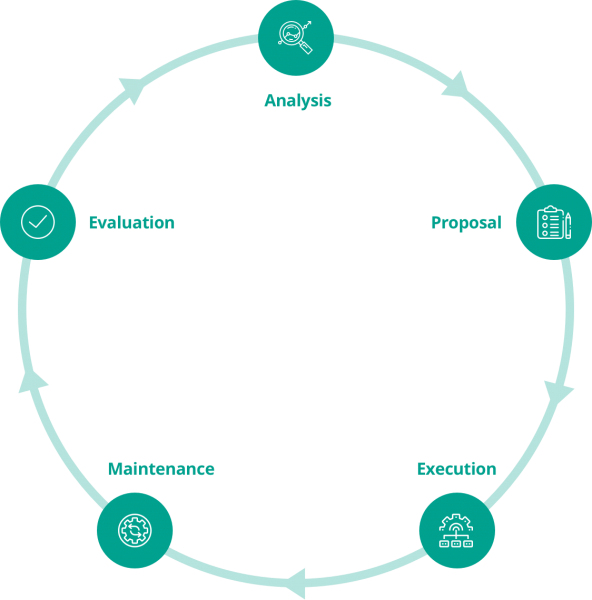 We are your partner for strategic IT tasks and everyday issues
Migration to cloud environment
Server and application administration
Network and data security
IT contract negotiation
Introduction and support of accounting programms
Optimization of IT costs
On-site user support
Design and implementation of IT architecture
M&A consulting
Device inventory and recordkeeping
GDPR compliance
Data backup
Proactive monitoring
Automatization of accounting processes
Facility security
We use state-of-the-art technologies
but we know how to adapt to technology that you are already using
Applications and cloud services


We help our clients transfer their applications to a cloud environment independently. We use the Microsoft Office 365 service that includes corporate email, a calendar and storage and the current versions of Word, Excel and other applications. We help transfer applications that run on their own servers to the Microsoft Azure service, which places extreme emphasis on security and brings almost unlimited immediate performance scaling possibilities.
Accounting systems and reporting




Typically, we work with Byznys, Helios, Vario, Abra and Pohoda accounting programmes but we have also dealt with many other tools. We use Microsoft Excel Power Pivot to process large data volumes or we connect directly to the database. We use Microsoft Power BI and Tableau as visualisation layers most often.
Network and security infrastructure




When implementing network infrastructure, we use the complete Cisco product portfolio, mainly routers, switches, access points and phones. We build servers using Supermicro, Dell and HP platforms. To secure objects we install Paradox switchboards together with access systems and other detectors by this brand. The switchboards are equipped with Vivotek camera systems and Nuuo recorders.
Contact us
Whether you're looking for a partner to cooperate with, or whether you'd like to solve a particular problem, this is the right place to be!